September 11, 2017
---
By Money Metals News Service
Those who paid any attention to the financial press last week saw the following narrative; President Donald Trump betrayed Republicans by cutting a deal with Democrats Nancy Pelosi and Charles Schumer. They agreed to punt on the borrowing cap until December and spend $15 billion for hurricane relief.
Americans are supposed to conclude that Trump is flip-flopping, and that Republicans aren't responsible. Dig just a little, and you'll find only one of those things is true.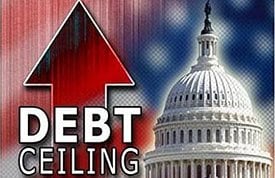 Trump is flip-flopping, no question about that. The president campaigned on promises to honor the borrowing limit. This tweet from 2013 if what candidate Trump had to say on the matter: "I cannot believe the Republicans are extending the debt ceiling — I am a Republican & I am embarrassed!"
---
Get our Weekly Commitment of Traders Report: - See where the biggest traders (Hedge Funds and Commercial Hedgers) are positioned in the futures markets on a weekly basis.
---
---
---
Get Our Free Metatrader 4 Indicators - Put Our Free MetaTrader 4 Custom Indicators on your charts when you join our Weekly Newsletter
---
---
---
But any implication that Republican leaders in Congress actually oppose more borrowing is patently false. Republicans in Congress overwhelmingly supported the deal. It was passed in the House with a vote of 316 to 90. The Senate voted 80 to 17.
Some who voted in opposition likely only did so for the sake of appearances. Others thought the president and Democrats did not go far enough. GOP leaders Paul Ryan and Mitch McConnell wanted a deal to suspend the borrowing cap for much longer than the 3 months they got.
Make no mistake – lots of Republicans share the commitment to unlimited borrowing with the President and Democrats.
At least the currency markets seem to have gotten it right. Last week's decline in the dollar may be a recognition the debt ceiling – the final pretense of borrowing restraint – will soon be going away. The sooner investors at large arrive at this conclusion, the better it will likely be for owners of hard assets.
---
The Money Metals News Service provides market news and crisp commentary for investors following the precious metals markets.